CAESARSTONE KITCHEN
20mm Oyster
Dear Philip
We just wanted to express our thanks to Eamonn and yourself for the professional manner in which you completed our job at Stanthorpe.
We are very pleased with how it looks and were impressed with your willingness to go to Stanthorpe for us and complete the job in the time frame that you promised.
Many thanks
Cathy & Ian Johnson
May 2018
CAESARSTONE KITCHEN
20mm Frosty Carina
Hi Phil,
I would like to say a big thank you to the team at BGM.
It is rare that you deal with a business who does exactly what they say they will do, when they say they will do it and execute the job perfectly.
Your Installers left a lasting impression with my client.
My client was singing praise about the quality of the product and your tradesman. Thank you.
Jody Griffiths
Superior Benchtops
April 2018
Smartstone Kitchen
20mm Calacatta Blanco
Hi Philip and Eamonn
We just wanted to thank you and your team for a great job on our new kitchen tops.
After our experience with the previous stone people, it was a pleasure to deal with some real professionals who can deliver a quality product with minimal of fuss.
The entire process has been seamless, from our first meeting to measure and the final install. We are extremely happy with the end result, it looks great.
The installers were all excellent.
Regards
Warwick and Trish Larcombe
March 2018
Caesarstone Kitchen
20mm Caesarstone Frosty Carina
Phillip
I would just like to thank you for your work on our stone top, we are very pleased with the outcome and have already recommended you several times.
I'm sure we will speak again as we continue to renovation our home.
Regards
Stuart Davies
March 2018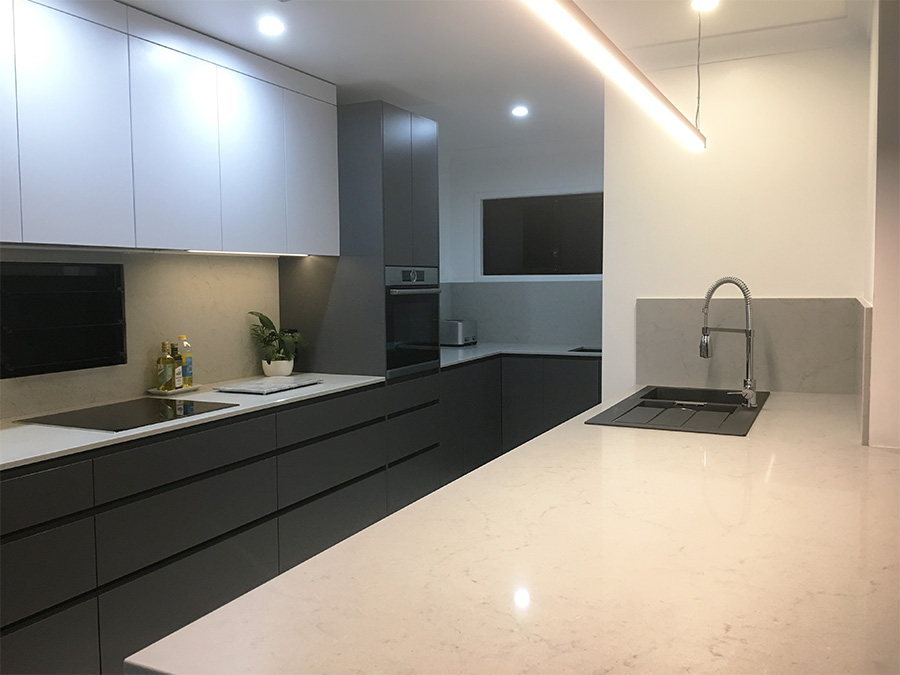 Granite Kitchen
30mm Imperial Gold
Hi Philip & Eamonn
Photo of the new granite bench tops. They look magnificent! Flawless and professional installation.
Everything we could have hoped for. Thank you!
Kind regards
Peter Pillans
13 February 2018
Granite Table
20mm Lemurian Blue Granite
Phil, Eamonn
Thank you kindly for a wonderful piece of stone, it is literally a gem.
Will be back to see you when we build our house.
Best wishes
Carl Gay
January 2018
Granite Fireplace Hearth
30mm Black Forest Gold
Eamonn & Philip
We wanted to say a big thank you! for supplying us with our fireplace hearth. As an Interior Designer and my husband an Architect, we understand the level of finishes and services that can be provided. Your service, product, installation, and attention to detail really were impressive.
Thank you again!
Monica & Graeme Spender
December 2017
Island Renovation
20mm Leather Black Jaguar Granite with 40mm edge
Dear Philip and Eamonn
We'd like to say thank you very much for our amazing and beautiful kitchen island bench. Thank you for the very professional job that has been done, from the initial meeting, the quality of the finished product to the flawless installation by your team. We really appreciate the time and workmanship that has gone into our job. Every time we use the bench we think "wow" – how beautiful it is.
Kind regards
Evona & Matt Fingleton
25th October 2017
Kitchen Renovation
20mm Caesarstone Frosty Carina
Hi Philip and Eamonn
At last all of the appliances and tiling are finished (photos attached). Everything that had to be fitted into the stone work went in like a glove. The plumber and the gas fitter said that the workmanship and accuracy of the stonework by BGM was one of the best that they had ever seen.
Margaret and I want to thank you both and all of the BGM staff who worked on our order. In particular a big thank you to Mark and Logan for their hard work with the removal of the old granite and their great skill with the installation. It was an all round pleasure to deal with BGM.
Regards
Graham and Margaret De Souza
18th October 2017
Island bench
20mm Caesarstone Calacatta Nuvo
We just wanted to send you a message expressing our gratitude for doing such a fabulous job on our island bench top.
We get comments on it every week and feels as though its still brand new, like done yesterday, when visitors see it for the first time and gasp!
Amazing job to say the least!!!! We'd never consider anyone else and frankly-we've passed on your contact numerous times. You deserve it!
Thanks again.
Chris and Sandie Bond
30th June 2017
Kitchen Renovation
30mm Black Forest Granite
Thanks to Philip & Eamonn for our beautiful new kitchen benchtops. You guys were so professional from start to finish, you deserve our praise. The finish and detail of the installed product is absolutely perfect.
As you can see by the photo, you can't even see where the joins are ! All of our friends and family are very impressed.
Connor McCamley
29th April 2017
Kitchen
Caesarstone Ocean Foam
I am a licensed builder since 1993 and have worked with Brisbane Granite & Marble since 2004. From quoting through to installation, I have always found them to be of the highest quality with a finish second to none. My clients have been very impressed with the end result after installation.
There have been occasions where I have not been able to use Brisbane Granite & Marble due to clients using their own subcontractors, which has resulted in an inferior product and installation.
I would have no hesitation in recommending Philip, Eamonn and and their team at Brisbane Granite & Marble.
Scott Powell
Stealth Building Solutions
www.stealthbuildingsolutions.com.au
Kitchen
Caesarstone Concrete
Hi Philip
Just want to thank you and your team on a doing such a great job on are ceaserstone kitchen bench top. From start to finish it was a very easy process , and the finish as you can see in the pictures is of a very high quality and I would recommend you very highly .Thank you.
Jon Corcoran
Kitchen Bench
Nero Impala Granite 30mm
Thanks to Eamonn at Brisbane Granite and Marble for designing such a great kitchen bench to suit our kitchen renovation. Both Eamonn and Philip were knowledgeable and helpful. The workmanship was exceptional. Installers were polite and respectful. Altogether a great job.
Geoff and Grace
July 2014
Kitchen
Calacatta Nuvo Caesarstone
A big thank you to Philip, Eamonn and the boys for an exceptional job well done, on our new Calacatta Caesarstone kitchen benches. We were particularly impressed with your impeccable attention to detail and quality finishes and will have no hesitation in using your services for all our future projects.
Andrew and Karen Doyle
Kitchen
30mm Premium Jet Black Granite
Just want to say a special thank you to Philip, Eamonn, Mark and the boys for the kitchen. It is stunning. The finish is superb.
John Divitini
Kitchen
Calacatta Marble with 30mm Pencil Round Edge
The marble was fitted while I was overseas, and sealed this morning. It is stunning, thanks. My wife, made comment on how great the guys were that fitted the bench tops, she was really impressed. Thanks again for the great work.
David Gordon
KITCHEN & VANITIES
Smartstone Gris Rocca with 60mm edge
Hi Phillip, fantastic work! My kitchen bench is perfect. I love it!
Also please thank Eamonn.
When we do our next build, we will be returning.
Zoi Hazlett
LAUNDRY
20mm Caesarstone Ocean Foam
Very happy with the service.
Debby Drago
Kitchen
20mm Caesarstone Osprey
Just want to thank you for our lovely bench top. Really enjoying. Looks great.
Teena Tapley
Vanity and Fire Surround
20mm Fossil Brown Marble
Thanks Philip and Eamonn for your service and quality workmanship. The installers were also a credit to you.
Peter Nisbet
Kitchen
Calacatta Marble with 30mm Pencil Round Edge
The marble was fitted while I was overseas, and sealed this morning. It is stunning, thanks. My wife, made comment on how great the guys were that fitted the bench tops, she was really impressed. Thanks again for the great work.
David Gordon